If you are thinking of buying a New Bike, be it a Commercial or Custom bike, the best way to know the appropriate size and setup of your bike is to have a BIKE SIZING analysis performed.
Here we put you on our Retul Fit Bike and dial in your position based on your riding style, bike set-up preferences and what our experience and the motion capture evidence suggest. This is the best way to determine the appropriate frame size and bike brands that are best for you. We also suggest the bike components (eg. stem length, crank length, spacers) you'll need to achieve the fit you are looking for.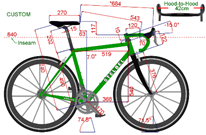 Session Includes:
Measurement of your Anthropometric body proportions (e.g. Height, Weight, Limb lengths) to assist in the initial bike sizing setup.
Dial-in the geometry and set up of your preferred bike brand and appropriate frame size on the Retul bike.